Nuts are power food for body and mind. Due to their high-quality nutrients, they play a central role in human nutrition. Especially in the vegan diet, nuts are a valuable plant source of potentially critical nutrients. They provide essential fatty acids and fat-soluble vitamins, dietary fiber, proteins, minerals, vitamins and phytochemicals. They also contain the essential amino acid leucine in appreciable amounts. Leucine plays an important role in the development and maintenance of muscles.
Nuts are also in the upper third of the vegan food pyramid and should be consumed regularly, but in a healthy way. Since nuts have different compositions, the consumption of different varieties is ideal. This guarantees a balanced supply of the high-quality nut nutrients. The Swiss Society for Nutrition recommends eating a handful, approx. 30 g, daily.




Vegan food pyramid

Sources: Schwarz, G. (2012). Gesund mit Nüssen. Herbig, München. | Deutsche Gesellschaft für Ernährung: https://www.dge.de/ | Schweizerische Gesellschaft für Ernährung SGE (2019). Merkblatt Nüsse, Samen und Kerne .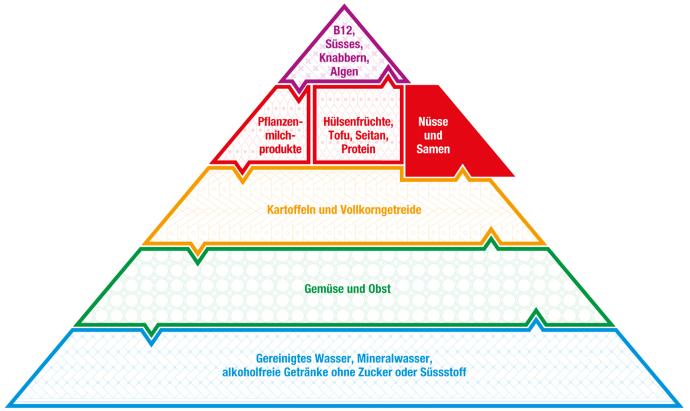 Ihr Dynamic Snippet wird hier angezeigt... Diese Meldung wird angezeigt, weil Sie weder einen Filter noch eine Vorlage zur Verwendung bereitgestellt haben