since 2008​

~ 650 families

Mangoes, Golden Berries, Pineapple, Bananas, Cocoa, Peanuts

EU-Bio, USDA Organic, CO Colombia, WFTO

~1'100 ha organic cultivation

Ibagué, Colombia
Fruandes is derived from the Spanish "Frutos de los Andes" and means "Fruits of the Andes. This is also what the company of the same name in Ibagué, Colombia, about 200 km west of the capital Bogotá, is all about. Fruandes is a socially committed company and aims to sell healthy and locally produced products in organic quality on international markets. By integrating smallholder cooperatives into functioning value chains, it aims to achieve the highest possible ecological and, above all, social impact. The Fruandes network extends over five departments of Colombia and involves more than 650 farmers' families in the business model.

Fruandes sources its fruit from seven different cooperatives located in different regions of the Colombian Andes. The smallholders grow mangos, physalis, pineapples, bananas, dragon fruit/pitahaya, cane sugar, cacao and peanuts according to strict organic quality standards, which are then gently processed in the Fruandes production facility in Ibagué.

In 2017, with the help of Pakka, Fruandes was able to build a new processing plant in Ibagué, thereby creating value and jobs in this rural region.

Today, the company exports the organic certified dried fruits to various countries, such as Canada, Italy, France, the Netherlands, Sweden, Switzerland, Japan and the United States.

In the Tolima region (southwest of Bogota), cotton was an important agricultural product until the collapse of the industry. However, the soils are also suitable for growing other crops such as peanuts. With a lot of persuasion, courage and financial support from Pakka, one of the producer organizations - "the Asociación Acayma" - was motivated to integrate the cultivation of organic peanuts into its product portfolio. Pakka financed a first pilot phase and supported them with market and product know-how. In close cooperation with "Fruandes" (post-harvest processing) and "Equiori" (chocolating and packaging of the peanuts), a true "field-to-food product" was created: not only are the raw materials 100% Colombian, but the entire value creation takes place in the Colombian origin.

www.fruandes.com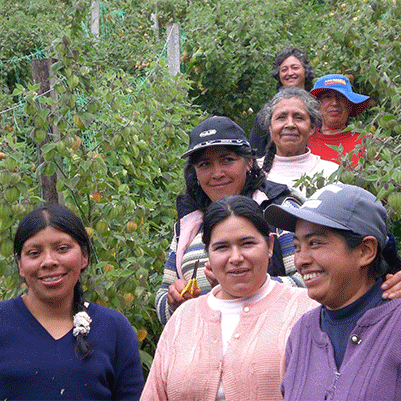 Farmerstories
The farmers behind the Choco Fruits

Find out who they are, where they live and what working with Pakka means to them.
Pakka products from Fruandes
Ihr Dynamic Snippet wird hier angezeigt... Diese Meldung wird angezeigt, weil Sie weder einen Filter noch eine Vorlage zur Verwendung bereitgestellt haben

Damit eine Karte eingebettet werden kann, muss eine Adresse angegeben werden
Our other partners and suppliers